Seven Quick Takes from the Dolin house . . .
1. Boy scheduled to take the SAT Saturday morning is huddled in the fetal position fighting a nasty stomach bug. Current score? Bug 4, Tim 0. Please pray for him and pray that the bug won't hit boy scheduled for First Communion on Sunday or aunt arriving from Michigan on Saturday or anybody else for that matter.
2. So I spent nearly two hours trying to reconcile various accounts. Here's a hint: If you begin with the wrong starting balance, it's never gonna jibe. Nope. The key is starting with the correct balance and having a few good tunes to make a tedious task less bothersome. My playlist:
Smile a Little Smile for Me, Rosemarie - The Flying Machine

Ma Bell Amie - Tee Set

Hey There, Delilah - Plain White T's

Ninety-nine Red Balloons - Zena

My Maria - Brooks and Dunn

Mandy - Barry Manilow

Close to You - The Carpenters

We've Only Just Begun - Ditto

Knock Three Times - Tony Orlando and Dawn

Lemon Tree - Peter, Paul, and Mary

Puff the Magic Dragon - Ditto
Call me a child of the seventies, but
Mandy
still makes we swoon. How's that for good taste? As for the Carpenters, a veritable schmalzapalooza that few but myself and Kris can fully appreciate.
3. Happiness is discovering half a box of Oreos after the kids are all in bed.
4. And while we're on the subject of Oreos, we can file this under "too good to pass by". A mom gets the following note home after -- oh, the horror! -- packing Oreos in her daughter's lunch: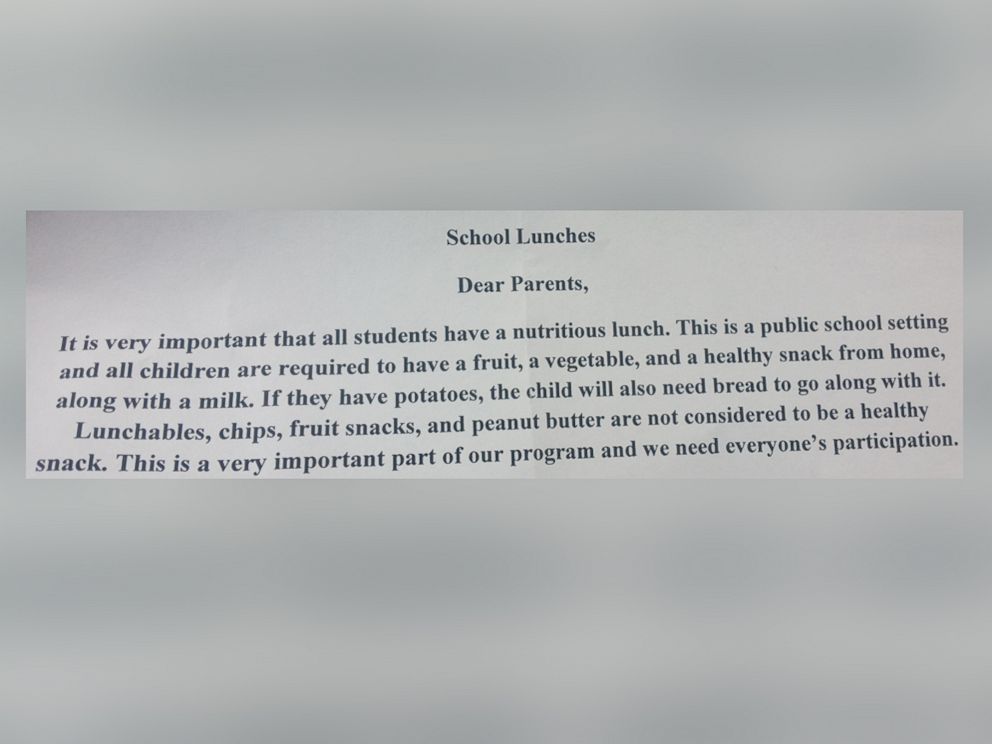 The blurry fine print specifies that children are "required" to bring a fruit, a vegetable, and a healthy snack and further stipulates that peanut butter is "not a healthy snack".
My goodness, I'm fairly sure I'd be facing hard time if my kids attended that school.
A Dolin staple.
5. I can do one better that the above note. Not so long ago, I received a text from Ainsley's kindergarten teacher: Ainsley says she's hungry. Did she eat breakfast?
And because I try really, really hard to tell the truth, I was forced to reply: I don't know.
I don't know.
How awful is that?
She's five, and I don't know if she had breakfast or not. Mornings can be a tad harried around here. I gulped hard and have tried to be more careful about these things since then.
6. Meanwhile, John's eating habits have been cause for maternal angst. His lunch came home virtually untouched two days running. He didn't even eat his cookies (not Oreos, but probably verboten at the above school). And for breakfast, nothing appealed to him. Nothing. John's appetite tends to go south in the wake of his fever episodes, one of which struck hard over the weekend.
It can certainly be a challenge to get kids to eat and to eat right. I'm pretty sure shame notes don't help the process.
7. And since John's first communion is upon us and we are expecting house guests, I am off to clean and paint and weed and de-clutter like a mad woman.
For perspective on First Communion, please read
this
. While I'll work hard today and tomorrow, it's all about John and Jesus.
Not the cake or the suit or the tablecloths or the weather.
John and Jesus.